CAT 349D2 Large Hydraulic Excavator Operator Station
Operator Station
The ergonomically designed operator station is spacious, quiet, and comfortable, assuring high productivity during a long work day. CAT 349D2 Large Hydraulic Excavator switches are located in front of the operator for convenient access.
Cab Structure and Mounts
The cab shell is attached to the frame with viscous rubber mounts, which dampen vibrations and sound levels while enhancing your comfort. Thick steel tubing along the bottom perimeter improves the cab's resistance to fatigue and vibration.
Seat
The suspension seat provides a variety of adjustments to accommodate a wide range of operators. The seat includes a reclining back, upper and lower seat slide adjustments, and height and tilt adjustments to meet your needs for comfort and productivity.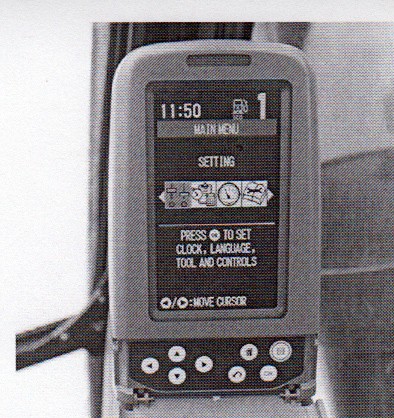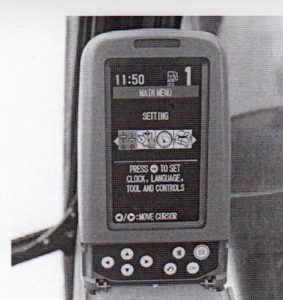 Monitor
The monitor is a full-color Liquid Crystal Display (LCD) that has the capability of displaying information in 28 languages.
Joystick Control and Console
Low-effort pilot-operated joystick controls are designed to match your natural wrist and arm position for maximum comfort and minimum fatigue. The right and left joystick console can be adjusted to meet your individual preferences, improving overall comfort and productivity during the course of a long work day.
Climate Control
Positive filtered ventilation with a pressurized cab is standard. Fresh air or re-circulated air can be selected with a switch on the left console.
Windows and Wipers
All glass is affixed directly to the cab to maximize visibility, eliminating window frames. The upper front windshield opens, closes, and stores on the roof above the operator with a one-touch action release system. Pillar-mounted wipers increase your viewing area and offer continuous and intermittent modes.
Turbocharger
The Cat C13 uses a wastegate turbocharger for improved performance.
The wastegate valve controls excessive engine boost pressure by allowing exhaust to bypass the exhaust-side turbine.
The wastegate also reduces turbine wear in high RPM; low load conditions and optimizes air and fuel delivery for peak engine performance. The turbocharger increases the density of the air, enabling the engine to produce more power with few effects from altitude.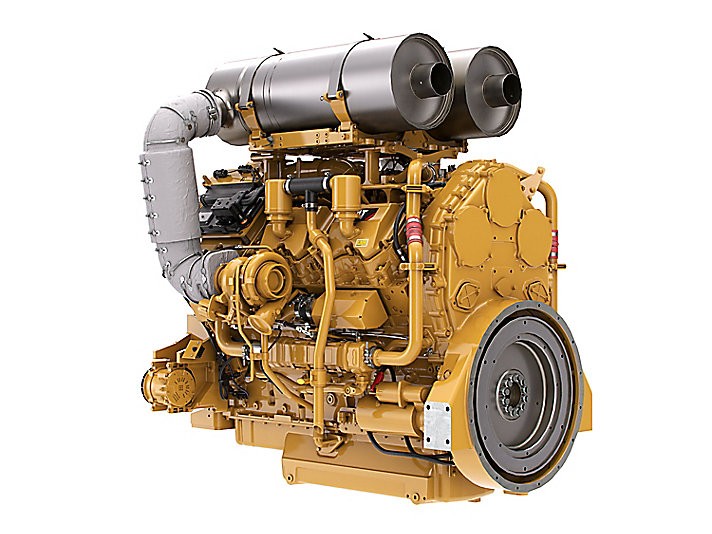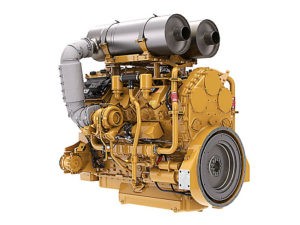 Engine
Powerful, reliable, and fuel efficient to deliver more to your bottom line. 349D2/D2 L owning and operation costs have been reduced by reverting to optimized Economy Mode each time the machine is started regardless of what mode the operator had previously selected. This will help to reduce fuel consumption up to 9 percent than its predecessor moving the same amount of material.
Emission Standards
The Cat C13 engine has been designed to meet U.S. EPA Tier 2, Ell Stage II, and China Tier 2 emission standards. The engine incorporates proven robust components and precision manufacturing you can count on for reliable and efficient operation.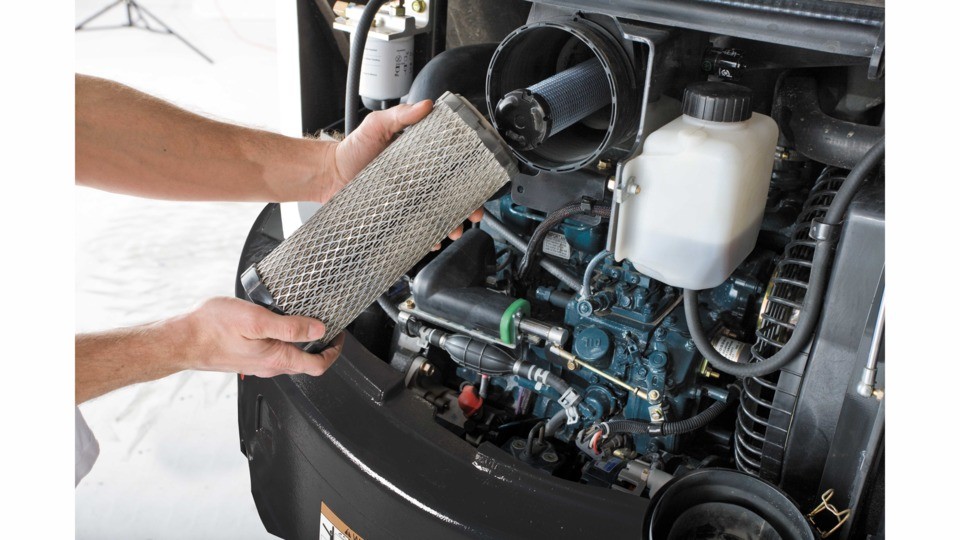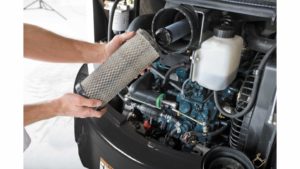 Fuel System
The Cat C13 features electronic controls that govern the mechanically actuated unit fuel injection (MEUI™) system. MEUI provides the high-pressure required to deliver better fuel economy through finer fuel atomization and more complete combustion.
ADEM™ A4 Engine Controller
The ADEM A4 electronic control module manages fuel delivery to get the best performance per liter of fuel used. The engine management system provides flexible fuel mapping, allowing the engine to respond quicklyto varying application needs. It tracks engine and machine conditions while keeping the engine operating at peak efficiency.
Air Cleaner
The radial seal air filter features a double- layered filter core for more efficient filtration and is located in a compartment behind the cab. A warning is displayed on the monitor when dust accumulates above a preset level.
Low Sound and Vibration Levels
The engine mounts are rubber-isolating mounts matched with the engine package to provide optimum sound and vibration reduction. Further noise reduction has been achieved through design changes to the isolated top cover, oil pan, multiple injection strategy, insulated timing cover, sculpted crankcase.


Structures and Undercarriage
Strong and durable, all you expect from CAT 349D2 Large Hydraulic Excavator.
Main Frame
The X-shaped, box-section carbody provides excellent resistance to torsional bending, and press-formed, robot-welded track roller frames provide exceptional strength and durability.
Rollers and Idlers
Sealed and lubricated track rollers, carrier rollers, and idlers provide excellent service life to keep your machine in the field and working longer.
Track Roller Frame Fixed Gauge Undercarriage
Uses a press-formed, pentagonal section for the track frame that is robot-welded for weld consistency and quality. The track frame has been designed so that the top of the track frame has a steep angle to help prevent accumulation of mud and debris.
Counterweights
The standard 9.0 mt (9.91) counterweight maintains large lifting capacity and excellent stability. It's bolted directly to the main frame for extra rigidity.
Track
Durable Cat undercarriage absorbs stress and provides excellent stability. The 349D2 comes standard with grease lubricated tracks. The track links are assembled and sealed with grease to decrease internal bushing wear, reduce travel noise and extend service life lowering operating costs
Front Linkage CAT 349D2 Large Hydraulic Excavator
Reliable, durable, and versatile to meet all your application needs.
Booms and Sticks
The 349D2 is offered with a range of booms and sticks. Each is built with internal baffle plates and stress-relieved for added durability, and each undergoes ultrasound inspection to ensure quality and reliability. Large box-section structures with thick, multi-plate fabrications, castings, and forgings are used in high-stress areas such as the boom nose, boom foot, boom cylinder, and stick foot to improve durability. Also, the boom nose pin retention method is a captured flag design for enhanced durability.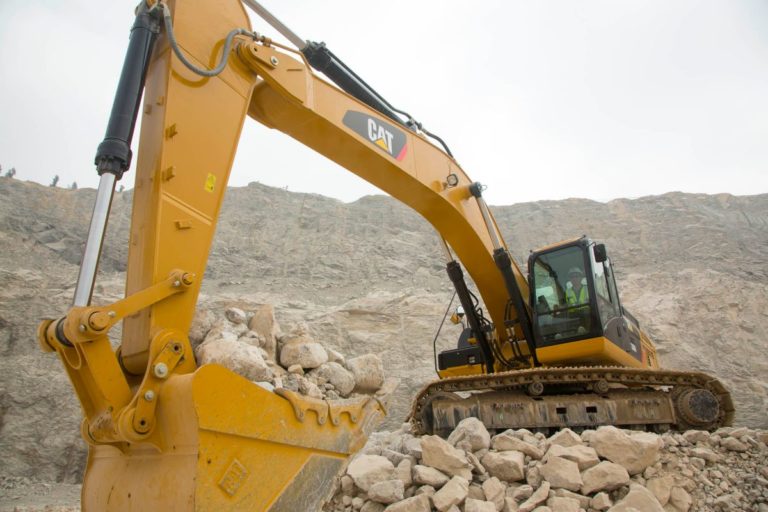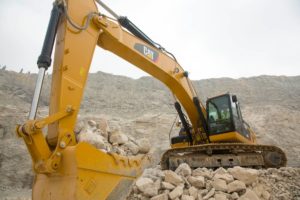 Reach Front Linkage
The Reach boom is designed to balance reach, digging force bucket capacity, offering a wide range of applications as digging, loading and trenching.
There are three reach stick options available to meet all your application requirements:
The 2.9 m (9'6″) stick is best used when you are working primarily in truck loading applications to maximize your breakout force and increase your bucket fill factor.
The 3.35 m (ll'O") stick is a versatile option that will meet the needs for most of your construction applications.
The 3.9 m (12′ 10″) stick is a great choice when you need additional working range like truck loading and deep trenching.
Mass Front Linkage CAT 349D2 Large Hydraulic Excavator
The mass excavation (ME) front linkage is designed to maximize machine performance through superior digging forces and a larger bucket capacity. The 6.55 m (21 "6") mass excavation boom is reinforced with a large cross section for longer life and durability.
The ME boom has two stick options to meet your demanding applications:
The 2.5 m (8 2″) ME stick is best for bench loading. This option also provides better breakout force for ripper and is ideal for hammer applications.
The 3.0 m (9′ 10″) ME stick is best when you primarily use high-capacity buckets in truck loading applications to maximize your breakout force.
All booms and sticks have baffle plates.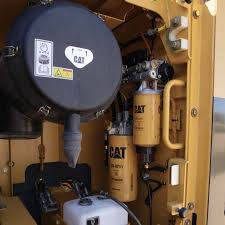 Service and Maintenance
Simplified service and maintenance save you time and money.
Extended Service Intervals
Extended service and maintenance intervals increase machine availability. The maintenance intervals for engine oil and engine oil filter have been extended to 500 hours.
Capsule Filter CAT 349D2 Large Hydraulic Excavator
The hydraulic return filters are located in the hydraulic tank. The filter elements are removable without spilling hydraulic oil.
Pilot Hydraulic System Filter
Pilot hydraulic system filter keeps contaminants from the pilot system and is located in the pump compartment.
Radial Seal Main Air Cleaner
Radial seal main air cleaner with precleaner has a double- layered filter element for more efficient filtration. No tools are required to change the element.
Fuel-Water Separator
The water separator has a primary fuel filter element and is located in the air cleaner compartment for easy access from the ground.
Service Points CAT 349D2 Large Hydraulic Excavator. 
Service points are centrally located with easy access to facilitate routine maintenance.
Oil Sample and Pressure Ports
Oil sample and pressure ports provide easy checking of machine condition and are standard on every machine.
Greasing Points
CAT 349D2 Large Hydraulic Excavator – A concentrated remote greasing block on the boom delivers grease to hard-to-reach locations.
Rezaul Islam
zohabd69@gmail.com